http://www.ericvalli.com/index.php?/stories/off-the-grid/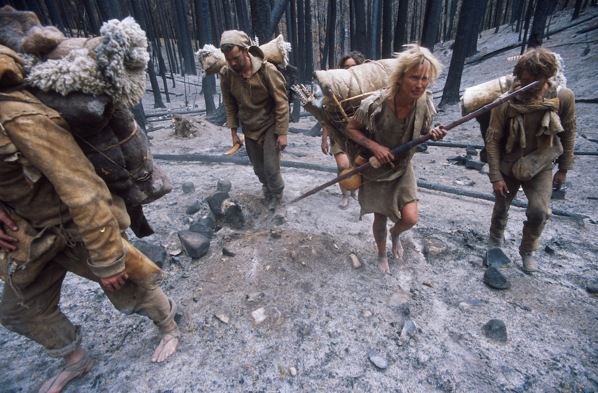 This photographer Eric Valli claims to have spent 3 years hanging out with people who live off the grid in the US. One group looks like mountain men, the other like cavemen.
The problem with this presentation, even though it's beautiful, is that it shows a beautiful lie: The cavemen look like a bunch of college kids playing weekend-caveman. (except for the last picture where the cavemen are posing in a truck stop, and notice there's no other customers, the lighting looks enhanced, and one of them is barefoot, who let them in there barefoot?) And that woman who looks like Ayla in a mini skirt, I'd hate to see her wading through a field full of ticks in that getup. I don't care how nice her legs are, she should put on a pair of pants, or at least a longer skirt, if she wants to be practical in the wilderness. She's gonna get bit in the hoo-ha by a fire ant if she's not careful where she sits. And going barefoot, when you can afford (or make) footwear, is just STUPID. One of these days one of them'll cut their dirty foot on a piece of broken glass or something, and they won't have anything clean to wrap it up with. Yes, it's true that if you go barefoot your feet will make callouses. That doesn't mean you have to. Many primitive people wear shoes. It's for a reason.
While I'm all for people trying to learn wilderness survival skills, the message this photo essay sends is that it's going to "save the earth" for people to live in the woods, hunt with homemade bows and arrows, and cook their food over camp fires. If everyone did this, there would soon be no wildlife, there would be shit everywhere, any open water would become unfit to drink, and they'd all die of cholera or dysentery within a week or two. Also, the greenie-weenie UN, which these hippies might think they support, is very concerned about pollution from primitive cook fires. (and they can shove their concern where the sun don't shine. People gotta eat). The most realistic photo in the whole essay is the one at the truck stop. Because I bet those hippies were thirsty and had the munchies after their barefoot hike up Mt. Shasta and wanted a Big Gulp and a burrito, and they put it on Daddy's visa.
If there is a collapse, it's not going to just revert to some nature-paradise Clan of the Cave Bear scenario, or some 19th century prospectors with muzzle-loaders. It's not going to be attractive people in period costume. It'll look more like Mexico City, or some dump in Guatemala. Even if 90% of the people die, like these eco-wackos want, what are they going to do, send out crews of survivors to demolish all the buildings? Are the people who would enforce that Agenda 21 bullcrap going to allow mountain men with firearms back onto the land, to party like it's 1799, with their primitive cook fires?
Much more genuine are the other photo essays on this guy's website: Nomads with women and children in tow, with gnarly feet or incongruously Western footwear to go with their colorful clothes, wearing plastic sheets to keep the rain off, 50 people crammed in the back of a truck, bashing rocks to make a highway, climbing trees to carve up bees nests for the honey, or leading water buffaloes through the snow. These people look like they are used to hard work and living rough. The men look like real men and the women like real women, and you also really can't have humanity without there being kids around.
Sorry, dude. Your greenie-weenie propaganda doesn't fool me. It reminds me more of your commercial work for Vuitton than anything else.