Check this out! This guy tried to take his antique Citroen through the African desert around some roadblock, but it broke and he got stranded, so he cobbled together a motorcycle from it. Some were saying he didn't have tools, but he actually did have a few tools, like a hacksaw and some other hand tools. He was about a day's walk from town, but instead chose to stay there and do this thing to his car - rather than abandon it? I also am thinking he must have had a lot of water and at least some food in his car. It took him 12 days to do this, out there, and he would have died of dehydration in about 3 days if he didn't have any water.
Ironically he also took pains to reattach his license plate when he was done making the bike, but still was fined once he got back to town for having an "improper registration". (that just figures).
I'm also assuming his camera had a timer?
http://boingboing.net/2012/05/23/homemade-motorcycled-improvise.html
Via:
http://www.rootsimple.com/2012/05/saturday-linkages-improvised-motocycles.html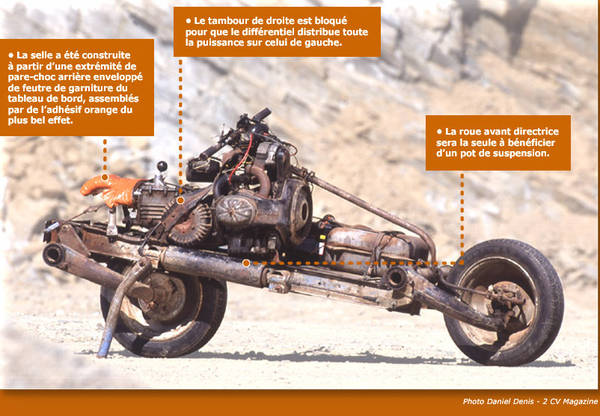 And here's the mechanic himself: (I hope he didn't get too sunburnt).